October 31, 2017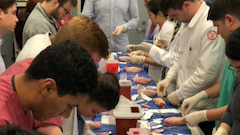 Third-year students from Weill Cornell Medical College attended a suturing workshop designed to enhance their skills prior to starting a six-week surgical clerkship.
Under the supervision of general surgery research residents, the medical students gained hands-on practice in executing the proper techniques for the most common suturing patterns. 
The workshop was held October 30 in the Skills Acquisition & Innovation Lab (SAIL).